What is Full Mouth Reconstruction?
While the words "Full Mouth Reconstruction" can sound daunting, rebuilding your smile does not have to be a harrowing experience. In fact, the term itself can be misleading, because a "Full Mouth restoration" can sometimes require no more than one or two dental implants or porcelain veneers.
It means rebuilding each tooth that needs attention and addressing each tooth individually. This may mean doing a several different techniques and procedures. Here at Rifkin Raanan, each dental reconstruction is 100% bespoke and tailored to you. Most importantly, we believe in precision and minimalism and never do more than exactly what needs to be done to produce the desired end result.
It is important to know that missing or damaged teeth are more than just a cosmetic issue: While they can negatively impact the appearance of your smile, they may also limit your ability to properly bite and chew your food. Consider as well that these damaged and injured teeth may impact your ability to speak clearly, not to mention that dental issues have been linked to a variety of serious health risks. This is why we take a holistic approach to enhance and improve the health, functionality, and appearance of your smile.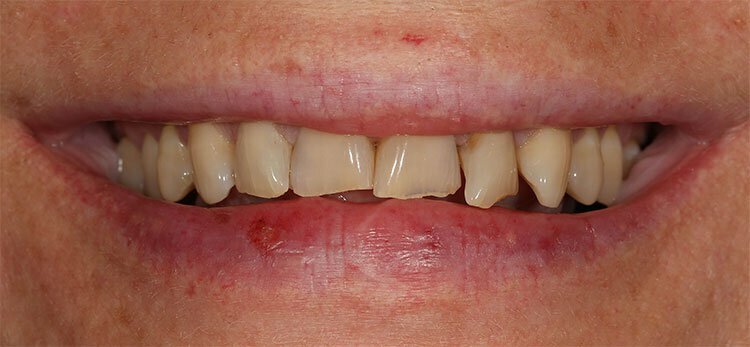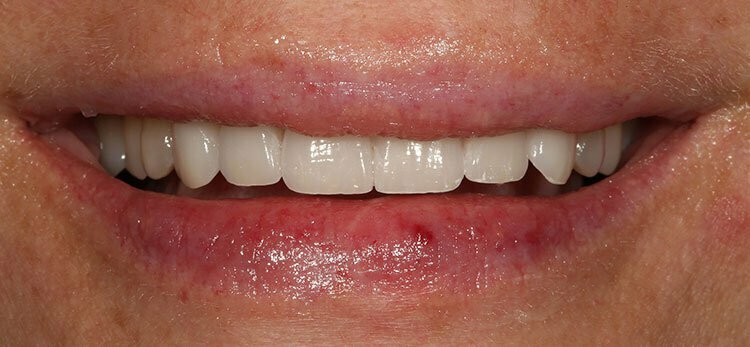 What Should I Expect with Full Mouth Reconstruction?
Dr. Rifkin or Dr. Raanan will begin with a thorough dental evaluation. They will conduct a detailed oral exam, take full mouth dental X-rays, make study models of your teeth and assemble your complete dental history. After evaluating this information, Dr. Rifkin or Dr. Raanan will be able to determine which options are applicable in your case and recommend a course of treatment to restore the beauty and full function of your teeth.
Depending on the extent of your tooth damage and the results that you desire, one or more of the following dental treatments may be required to properly correct your dental issues: Porcelain Veneers, Porcelain Crowns, Dental Bridges, or Dental Implants. Many patients are amazed at how easy it can be to dramatically improve the appearance and function of their smile. Often times it only requires subtle adjustments. Under the care of an Beverly Hills full mouth reconstruction specialist like Dr. Rifkin or Dr. Raanan, all possible courses of treatment are considered for the ultimate in patient comfort and the best possible outcome.
Can Full Mouth Reconstruction Help Me Look Younger?
If your teeth are badly worn, chipped, or missing, it can certainly contribute to making you appear aged and even older than you truly are. It can also have a draining effect, making you appear and even feel tired or weary. By focusing on restoring the vertical dimension of your teeth, Dr. Rifkin and Dr. Raanan can return fulness to the lower face. This in turn helps to bring about a natural-looking, youthful smile. Full Mouth Reconstruction will not only help you achieve a better quality of life by repairing the function of your teeth, it can also restore your self confidence and greatly benefit your social and professional life.
Each of the treatments utilized in Full Mouth Reconstruction are designed to present a healthy, natural appearance. In many cases Dr. Rifkin's and Dr. Raanan's patients say that they feel more energetic and youthful when their full mouth restorations have been completed.
What is the cost of Full Mouth Reconstruction?
There is no "one-size-fits-all" answer to the question of cost when it comes to Full Mouth Reconstruction. Each Full Mouth restoration must be customized to fit the dental needs of the individual patient. Because each individual's dental issues are unique, the cost may vary greatly from one patient to another.
The only one way to properly and accurately answer the question for your situation is to make an appointment with expert Beverly Hills Cosmetic dentist Dr. Robert Rifkin or Dr. Rodney Raanan to have the full details of your situation assessed. To find out what treatments are appropriate for your dental goals and needs, call our office today and request a one-on-one consultation.
"I expressed my concerns to him and he carefully listened and addressed every single one of them. Throughout the treatment, he would ask how I was doing, if I had any questions, and would update me every step of the way. I couldn't be happier with the final result!"